Spin Our Large Size Wheel!
Once you are done with your marketing campaign, you have access to our statistics report which shows who spun the prize wheel and what did they win. It also has a summarized total of what prize won the most. This will allow you to adjust your campaign settings for the next time you do a marketing campaign.
Here is a sample stats report: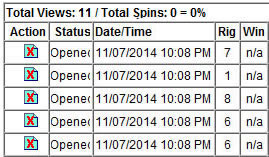 Sample: Full Spin Statistics Screen
Contact Us for more information!
We offer this as a subscription based service, monthly, 3 months, 6 months or 12 months. By doing it this way, it allows us to constantly improve our prize wheel while making setting up a wheel for your website or event a very easy thing to do. For ease of use, we also maintain your email list and spin statistics which is available for downloading to Excel.
If you obtain only one new customer that results in $1500.00 profit at the end of the year from using the prize wheel, then it paid for itself 4 times over!
---
(Terms of Use - Please allow 24 - 48 hours to set up your account upon signup)
(Once email confirmation is sent is when date will start)
(First time signups will get 10 extra days as a learning curve from signup date)

I acknowledge that I've read this page and the terms-of-use thoroughly before proceeding to purchase.

---
(Terms of Use - Please allow 24 - 48 hours to set up your account upon signup)
(Once email confirmation is sent is when date will start)
(First time signups will get 10 extra days as a learning curve from signup date)

I acknowledge that I've read this page and the terms-of-use thoroughly before proceeding to purchase.

---
(Terms of Use - Please allow 24 - 48 hours to set up your account upon signup)
(Once email confirmation is sent is when date will start)
(First time signups will get 10 extra days as a learning curve from signup date)

I acknowledge that I've read this page and the terms-of-use thoroughly before proceeding to purchase.

---
(Terms of Use - Please allow 24 - 48 hours to set up your account upon signup)
(Once email confirmation is sent is when date will start)
(First time signups will get 10 extra days as a learning curve from signup date)

I acknowledge that I've read this page and the terms-of-use thoroughly before proceeding to purchase.

---
Feel free to take our sample virtual prize wheels above for a test SPIN!

For more information Contact Us for additional questions!